SOLUTIONS
Application Migration & Modernization​
Build confidence for your application delivery​
Application modernization is the process of taking existing applications and modernizing their platform infrastructure, internal architecture, and features. With the demand for secure remote application and desktop experiences, its modernization focuses on how these can be moved into more modern application and desktop delivery platforms – on-premises, hybrid, or cloud architectures. Application modernization extends the lifespan of an organization's applications while also taking advantage of technical innovations. As an outcome, a well-defined application delivery plan is a crucial element of an enterprise's overall digital transformation strategy.
Today, when organizations consider application modernization, they are typically referring to the process of migrating traditional applications to run in modern cloud environments.
However, common challenges IT organizations face during migration and transformation projects are:​
Complexity due to dependencies and legacy business-critical applications​
Traditional approach to app migrations to newer Windows platforms​
Insufficient insights into application architecture to understand compatibility, functionality, and performance​
Technology tools available are too complex and require special knowledge​
Budget constraints to tackle a project effectively and timely
Application Testing Simplified
Application migration and modernization is tough. Why wouldn't you want to automate it?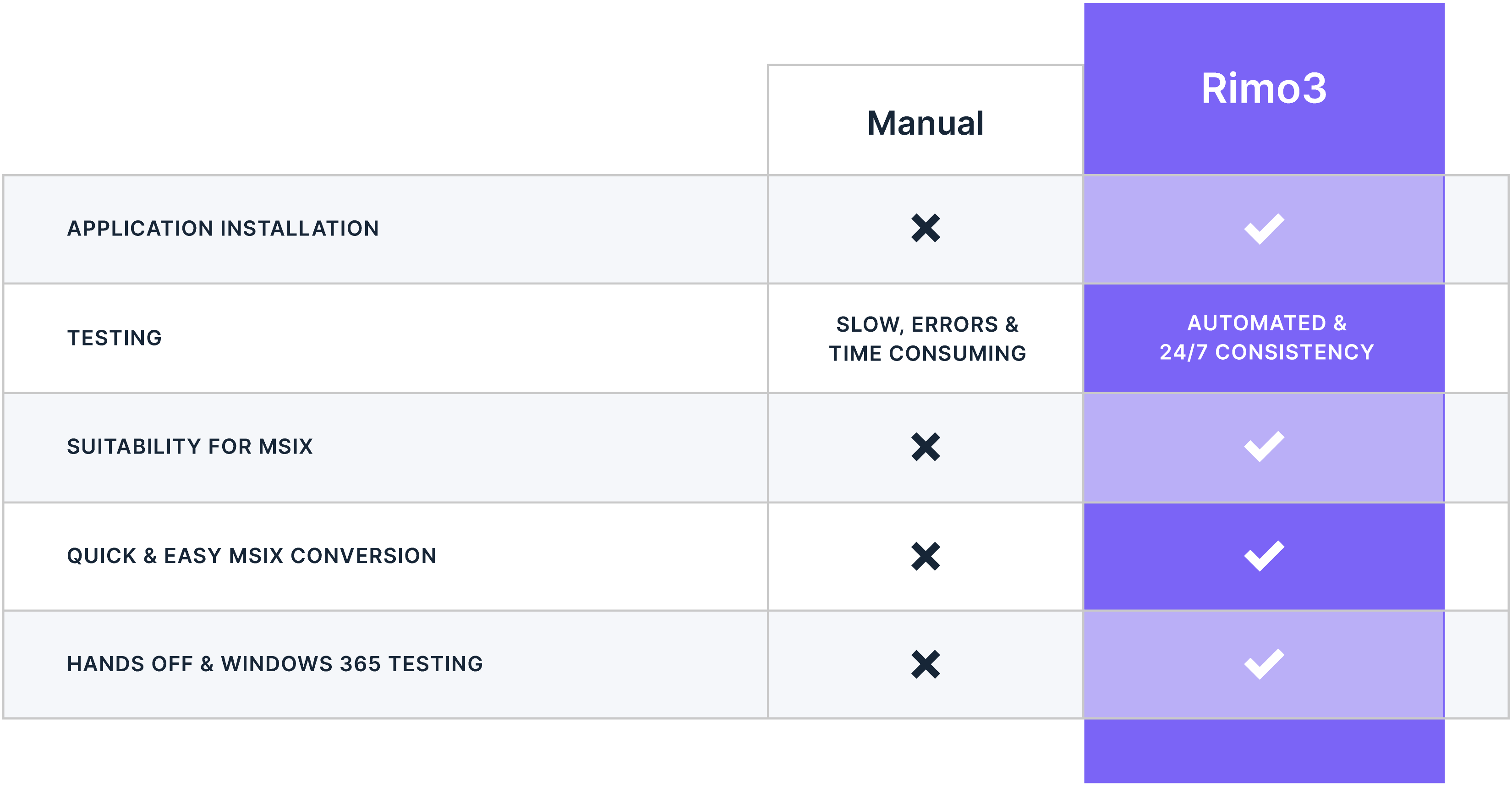 There is a better way.​
Our application management platform, Rimo3 Cloud, accelerates the adoption of application workloads by rapidly determining suitability towards a chosen target platform and modernizing them. It's through the automated process that Rimo3 helps drive application and desktop adoption at scale.​
How? By enabling you for Informed Application Delivery.
Determine migration readiness of your apps
Know your apps' properties and dependencies
Identify suitability for target Operating System platform​
Modernize apps all automated, in bulk, at scale​
Find pro-actively root causes of failures and performance degradation
Leverage dashboards for informed decision making​
No matter what Windows apps you consider to migrate to modern application and desktop delivery platforms, Rimo3 Cloud will assist you with your modernization project through simplicity, productivity, and scale – all through automation so you can focus on the outcome.​
Leverage the latest Windows operating system for richer user experience and security updates
Tap into Desktop as a Service (DaaS) offerings such as Citrix Virtual Apps and Desktops, Microsoft Azure Virtual Desktop (AVD), Windows 365 Cloud PC, VMware Horizon, or others
Optimize application delivery and become more agile through MSIX packaging technology